Platinum! For Better Or Worse?
Platinum wedding rings are purchased by brides and by grooms. This beautiful, tactile precious metal can be fashioned into almost every wedding band design imaginable. Platinum can be engraved, machined, set with diamonds, matte finished or polished.
Most brides are influenced by the metal of their engagement ring. Jewelers advocate keeping to the same metal choice to ensure consistency with both wear and color between both rings.
Buyers of Platinum wedding rings often base their choice on learning the following benefits of Platinum.
Platinum is NATURALLY WHITE
A key benefit of Platinum is the natural whiteness. By comparison, white gold is ever so slightly tinted – finished with a white Rhodium plating which can wear over time. Platinum requires no plating. You see the bare metal typically polished with a mirror surface.
Platinum can be refurbished.  Some metals don't take kindly to being worked, repaired and re-finished. Owing to the natural density of Platinum, it can be re-furbished – returned to it's as-new appearance, mirror polished and gleaming. Many antique pieces of Platinum jewelry remain in circulation – testament to the durability of Platinum. Less metal is lost during re-polishing. As a result Platinum wedding rings wear very well over many years. The natural patina that builds on the surface – accumulated scratches and wear are seen as a desirable characteristic of antique jewelry so buyers should never feel concerned when scratches first appear. They can be removed by simply re-polishing the ring, or by using non-abrasive Platinum cloths.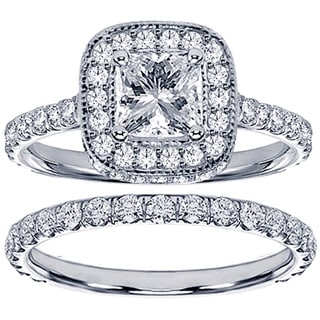 Platinum feels LUXURIOUS
Jewelry is not just about appearance. As you drop a Platinum wedding ring into the palm of your hand, it is the feel of luxury which is most striking. The first thing you will notice is the weight. Platinum has a weighty, substantial feel to it – weighing approximately a third heavier than 18ct white gold. It is around twice as heavy as Palladium.
Platinum is STRONG
Platinum is strong, making it a perfect metal for setting diamonds. The surface of Platinum is not extremely hard and it will scratch, but malleability is different. The fact that Platinum is less easily bent – less malleable makes it a great choice for holding diamonds with greater strength than many other metal choices.
Platinum is RARE
If you placed all of the World's mined Platinum in an Olympic sized swimming pool, it would barely cover the depth of your ankles. Platinum is a rare metal – the cost of extraction and the amount of Platinum available, make this metal rare and therefore more expensive with a much higher intrinsic value than other precious metals. There is a significant for demand for Platinum, and the use actually stretches much further than most people know. Most of us carry some Platinum in our pockets – small quantities are found in the circuitry of our mobile phones.
Platinum is NATURALLY HYPO-ALLERGENIC
Platinum wedding rings are perfect for allergy sufferers or for people with sensitive skin. Provided rings are kept clean, Platinum remains a perfect choice for wedding rings worn every day.
If you want to find Platinum wedding rings, in a variety of designs, call us today to set an appointment with Eyal the Diamond expert (561) 999-8878 and visit us online at www.diamondsbyeyal.com